【English】Andy English
Mr. Inuiさん Makuhari-Nishiに住んでま〜す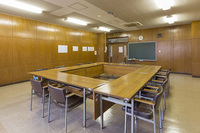 English Teacher Wanted
We are looking for English native teacher for our English class at Makuhari between October 1 to 10 (or 8) months.
Our preferred English teacher is people who is from English speaking countries (UK. USA. Canada. Australia. New Zealand) and highly interested in teaching English to Japanese people. especially able to take a lot of English conversation time.
The time is 2 hours from 9:00 to 11:00 every Wednesday.
The place is Makuhari Community Center 3rd Floor Assembly Room 2
3-7730-4 Makuhari-cho. Hanamigawa-ku. Chiba-shi. Chiba
TEL.043-272-5001
Air-conditioned room with a blackboard and 12 capacity seats.
Car parking and bicycle parking are available.
15-minute walk from Makuhari Station on the JR Sobu Line
15-minute walk from Kaihin Makuhari Station on the JR Keiyo Line
15 minute walk from Keisei Makuhari Station on the Keisei Chiba Line
It is near Ito-Yokado Makuhari and close to Kanda University of Foreign Studies.
The lesson fee (2 hours) is 1.000 yen per person.
At least 4 people (4.000 yen) or more. 7 people always participate (7.000 yen).
Contact: Syuji Inui
phone : 070-1457-1232
mail : syuji_inui@yahoo.co.jp
Of course. we are looking for others. so if we have already decided other. please forgive us.
Thank you.